BROKEN HILL
UNIVERSITY DEPARTMENT OF RURAL HEALTH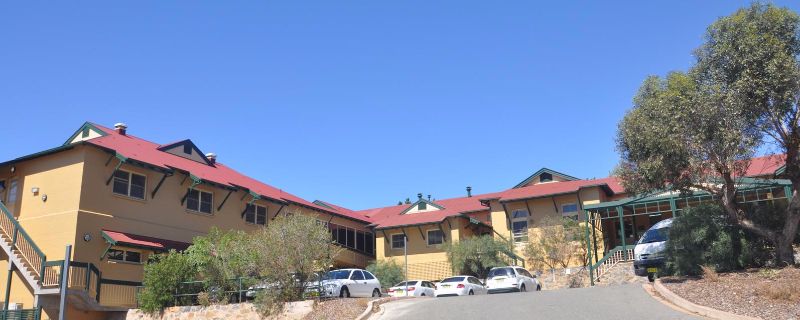 The Broken Hill University Department of Rural Health (BHUDRH) provides rural and remote clinical placement opportunities for students in the health sciences in far west New South Wales.
Students can experience placements within a busy regional hospital, or community-based placements within a primary health care framework. Students may also have an opportunity to work within health services in small isolated communities, which provide a rich indigenous health experience.
A placement in the far west will offer students a diverse and interesting mix of clinical challenges. For instance, our remote setting requires different management and treatment options, which allows students to develop a richer understanding of rural health within a broader social context.
Of course, non-clinical activities are equally important so there are plenty of opportunities to get out and about in the far west, including visiting national parks, enjoying the slower pace of life, and learning what it is like to live and work in rural and remote Australia.
The people here are generous and hospitable, the climate is pleasant during most of the academic year, and we hope that every student will learn something new and hopefully enjoy a rewarding experience.
So visit the far west and see for yourself!
The BHUDRH functions through partnerships with a number of major health service delivery agencies, including:
Far West Local Health District
Western NSW Local Health District
NSW Department of Education
Royal Flying Doctor Service (South East Section)
Bourke Aboriginal Health Service
Maari Ma Health Aboriginal Corporation
Coomealla Health Aboriginal Corporation
Walgett Aboriginal Medical Service
Rural and Remote Medical Services (RaRMS)
Outback Division
Ambulance Service of New South Wales 
Western NSW Primary Health Network
C.P. People's Pharmacy
Menindee St Abraam Pharmacy
Netting Pharmacy
Priceline Pharmacy
Tembys Pharmacy
and more.
In addition, the BHUDRH's close links with non-government agencies in the welfare and social services fields provide extended opportunities to broaden the students' understanding of rural and remote health.
The BHUDRH was established as the first University Department of Rural Health in Australia. It served as the model for the UDRH program established in 1996 by the federal government. The program was initially developed because of concerns about the growing shortage of medical and other health practitioners in rural Australia.
Broken Hill was considered ideal for the UDRH program because it provided a diversified experience for students on clinical placement. It has many features of rural and remote Australia concentrated in one area that has severed as a regional service centre for over a hundred years.
From the beginning, the BHUDRH wanted to align its academic requirements with a desire to make a difference and improve the health of the far west communities. The BHUDRH has achieved a lot by working together with local organisations and individuals; whether to provide training for medical, nursing or allied health students, enhance the research or clinical skills of qualified practitioners, or engage in research and evaluation work to support local health service program development.
When the BHUDRH was first established its footprint extended from Broken Hill to the townships of Menindee and Wilcannia, up north to Bourke and Brewarrina, and east to Lightning Ridge, Walgett and Collarenebri. In time, its footprint further grew to include the border towns of Wentworth, Dareton and Balranald. But after Greater Western Area Health Service was divided into Western NSW Local Health District and Far West Local Health District, the BHUDRH's regional area was also reduced to just Far West LHD.
In 2016, the BHUDRH began forging new relationships with community partners in the north west of NSW, and soon its regional coverage grew to once again include the townships of Bourke, Brewarrina, Cobar, Lightning Ridge and Walgett. Today, the BHUDRH's footprint is considerable and covers an area of 270,000 square kilometres, or roughly one third the land mass of New South Wales.
---