NURSING
The BHUDRH helps to support nursing students from universities across Australia, offering them an opportunity to engage with and learn from a wide variety of clinical staff who live and work in diverse locations and organisations across the region.
Students not only can work in the acute teaching hospital at the Broken Hill Health Service, but also in health services and Multi-Purpose Services (MPSs) across the region, such as in Wilcannia, Bourke, and Balranald.
Nursing students are also offered learning opportunities in community settings such as the Child and Family Health Centre – Broken Hill, Dareton Community Health, Walgett Community Health, and Community Mental Health in Broken Hill, Dareton, and Bourke.
Because of long standing cooperative partnerships between the BHUDRH and likeminded organisations throughout the far west region, nursing students have opportunities to have their placements in Aboriginal Community Controlled Health Organisations (ACCHO's) at Broken Hill, Bourke and Dareton, as well local primary and high schools.
---
Diamond in the Outback
Harry (Harrison) Clout – Registered Nurse, Broken Hill.
Harry is an ex nursing student of the BHUDRH. We are all very proud of what Harry has achieved.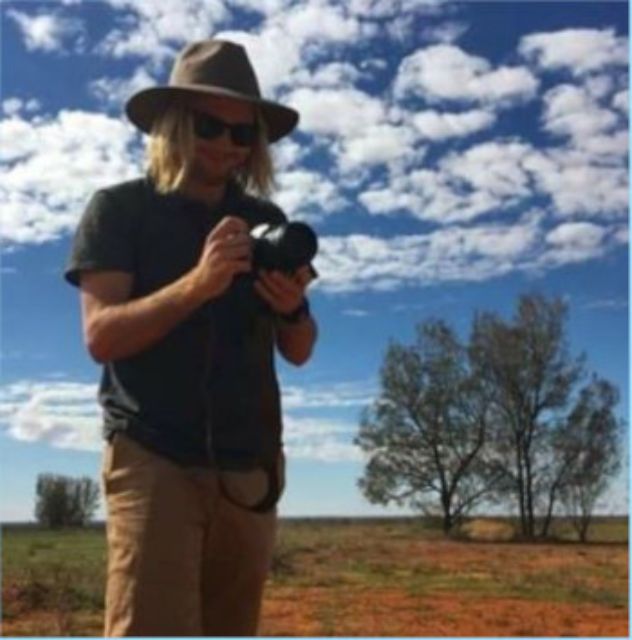 Harry grew up on the South Coast of NSW. After graduating from high school, Harry became interested in health care and in particular, nursing. His passion stems from a family friend who was a remote area nurse working not only in many interesting and vulnerable remote Indigenous communities, but also had the opportunity to travel with their work. Harry undertook a Certificate 4 in Aged Care and Community Care and furthered his career by undertaking a Bachelor of Nursing at the University of Wollongong, graduating in 2018. It was through his nursing placements that Harry had the opportunity to visit the rural town of Broken Hill, a place he had always wanted to see. Following two other placements in Far West NSW and Broken Hill, Harry decided he wanted to undertake his New Graduate Nursing Program there also. Harry undertook his Transition to Practice Program in Far West NSW rotating through Wilcannia MPS and the Broken Hill Hospital Emergency Department. Harry is currently permanently employed by Far West NSW and works in the Emergency Department. Throughout his experiences Harry has developed a passion for rural and remote healthcare and critical care nursing.  Furthermore, Harry is passionate for travel and adventure, and is exceptionally grateful to have been exposed to the unique and wonderful rural and remote nursing and healthcare providers during his first year out as a registered nurse. 
---

Broken Hill Health Service's Surgical Ward runs a Preceptor Program that incorporates a mix of morning, afternoon, night and weekend shifts into nursing students' schedules.
RN students in the health service's Surgical Ward are allocated a designated nursing preceptor for the duration of their placement, and students are expected to mirror the roster of their allocated preceptor, requiring them to work a range of shifts over the course of a calendar week. 
By mirroring the roster of their allocated preceptor, RN students can expect a more constant level of engagement with their preceptor, as well as an opportunity to develop rapport with and learn directly from one senior staff nurse for the duration of their placement.  This program also makes the signing off of students' competencies easier. 
The Preceptor Program offers RN students "real world" exposure to standard nursing shiftwork, as well as exposure to a range of nursing tasks associated with these shifts.  The Program also promotes work-readiness skills, further enhancing RN students' work-readiness for post graduate practice.
Nursing students who have followed this program have stated that they have had an opportunity to establish good working relationships with their preceptors, and as a result have achieved enhanced learning experiences and opportunities. 
The Primary Health Care Undergraduate Nursing Program is designed and delivered by the BHUDRH in partnership with Far West Local Health District, Western Local Health District, Maari Ma Health Aboriginal Corporation, Bourke Aboriginal Health Service, and the Coomealla Aboriginal Health Corporation.
Its aim is to provide undergraduate nursing students with a rural and remote primary health care experience that is underpinned by culturally safe and supported practice, and to promote rural and remote career pathways in primary health care and Indigenous health for nursing students.
All women in the Far West district who receive maternity care through Broken Hill Health Service are allocated their own primary midwife through our midwifery led continuity of care program, the Midwifery Group Practice. Their primary midwife and MGP team provide all outpatient care such as antenatal and postnatal visits and assessments and are on-call for labour and birth to provide intrapartum care. The Core Midwives provide care for women and babies whilst they are admitted to the Maternity Ward.
Student Midwives are partnered with an MGP midwife during their placement but also have the opportunity to spend time working with the Core Midwives on the ward. We may also be able to arrange for a day to be spent with a Child & Family Health Nurse in the community, a midwife from the Maari Ma Health Service and a nurse in the Royal Flying Doctor Service.
Caroline Ellen Wilson (Carrie), born on the 14th of April 1879 in Gum Creek Flat situated near Burra, Mid North region of South Australia, now known as Gum Creek. Caroline had a heroic and impressive nursing career. See newspaper article below and the National Library of Australia website to discover more about this incredible, dedicted Nurse.
The Flinders News, Wednesday 13th November 2019, pp. 2-3.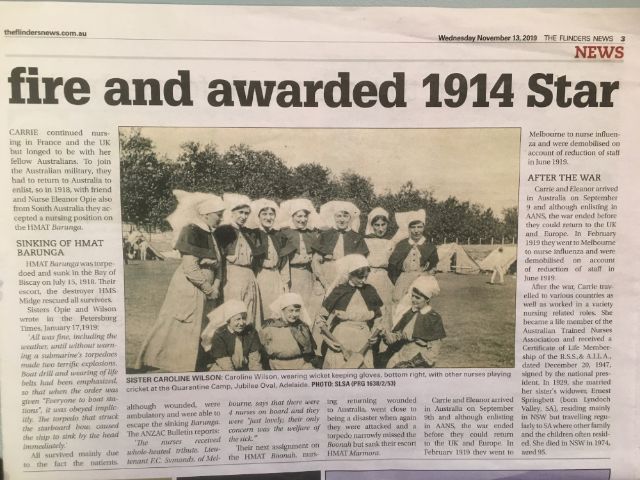 ---
Placement Enquiries
If you would like to find out more about nursing placements in the Far West Region and South West Region (Broken Hill, Wilcannia, Menindee, Balranald, Dareton and Wentworth), please contact Rachel Lysaght.
To find out more about placements in the Far West Region, including Broken Hill contact Rachel Lysaght.
To find out more about placements in the South West region, including Wentworth contact Sonia McCully.
For placements in the North West Region (Bourke, Brewarrina, Cobar, Lightning Ridge and Walgett), please contact Danielle Smith.
To learn more about the PHC Program, please contact 8080 1200