The Far West Region of NSW consists of the towns Broken Hill (our headquarters), Menindee and Wilcannia.
The far west is known for its wide open spaces, natural beauty, remarkable national parks, red soil, rich Indigenous culture and history, and an abundance of wildlife. Local attractions include Mutawintji National Park which is home to 30,000-year-old Indigenous rock carvings, White Cliffs and its underground opal mines, the historical ghost town of Silverton, Menindee Lakes and an eclectic collection of art galleries.
The far west region has historically been the mineral powerhouse of NSW, with a strong economy based on mining, agriculture, film, the arts and tourism. Bordering South Australia, Victoria and Queensland, the far west region only supports 0.4 per cent of NSW's population across an area of approx. 147,000 sq. km. Life out in the far west region is epitomised by long hot summers 'up the river', motorbike riding, fishing, cricket and socialising at the local pub. Cool winters bring footy and soccer on weekends, star gazing, and long bush walks.
Broken Hill is a true outback town and is Australia's first heritage-listed city. The town merges its mining history with a rising modern art scene all set amid an endless desert landscape. It is known as "The Silver City", the "Oasis of the West", and the "Capital of the Outback". With a population of approximately 18,276 Broken Hill has the largest population density in the region.
Broken Hill is located near the South Australian border, and as a result subscribes to the South Australian time zone (-30 min AEST). The nearest cities to Broken Hill are Mildura (Victoria, 300 km) and Adelaide (South Australia, 500 km).
Today Broken Hill is a cultural centre, and is home to more than 30 art galleries exhibiting work inspired by the striking and spectacular landscapes of the outback, and countless museums that capture the city's rich mining and cultural history.
Broken Hill is home to the Broken Hill Health Service, a 98 bed hospital (80 inpatient, 8 day, 10 sub-acute) rural teaching hospital, providing acute, non-acute, outpatient services and community health to the Broken Hill and surrounding communities. It has general medical, surgical, obstetric, paediatric, dialysis and acute mental health beds, as well as theatres, palliative care, intensive and coronary care units. Support services include radiology and pathology departments, as well as a wide range of allied and primary health services.
Menindee is a small heritage-listed town in the Central Darling Shire. Population 551 with 36.1% Indigenous (ABS, 2016 census).  It is the oldest European settlement in far west NSW, and also has NSW's second longest continuously operating pub (The Maidens).
Situated on the banks of the Darling River, Menindee is 110km from Broken Hill and 155km from Wilcannia. It has a population of approximately 1,000 people, and receives a number of weekend visitors from Broken Hill looking to enjoy the serene Menindee Lakes for fishing and camping at Kinchega National Park.
Menindee Health Service is a primary health care facility staffed by Registered Nurses and Aboriginal Health Care Workers. The service is open 5 days per week (Monday to Friday) with staff on call for emergencies out of these hours.
The Royal Flying Doctor Service runs General Practice clinics up to three days per week at Menindee Health Service. Patients requiring hospitalisation are transported to Broken Hill either by road ambulance dispatched from Broken Hill or by the RFDS.
Wilcannia is a small town located in the Central Darling Shire. It was the third largest inland port in the country during the great river boat era in the mid-19th century.
Situated on the banks of the Darling River, Wilcannia has a population of approximately 745 people, and roughly 61.2% identifies as Indigenous Australian (ABS, 2016 Census). Wilcannia is a town steeped in historical and cultural significance, much of which is captured in its centuries-old buildings. 70km away is the town of White Cliffs, which has a thriving artistic community and opal mines.
Wilcannia Hospital was redeveloped as a Multi-Purpose Centre and officially opened in 2002. The MPS provides integrated services including community health, 24 hour emergency care, ambulance, in-patient and residential aged care places.
There are 3 commonwealth funded high care places and 5 community packages available in Wilcannia. Although there are no designated "acute beds" there is facility for short term low risk admissions with the approval of the Royal Flying Doctor Service medical officers.
Medical services are extensive and include a wide range of specialties. Visiting specialists include Cardiology, Renal, Endocrinology, Dental, Ear, Nose and Throat, Audiology, Dermatology, Podiatry, Ophthalmology and Addictions.
The RFDS provide a minimum of 3 clinics per week, which is supported by telephone consultations and emergency retrievals. Maari Ma Health has regular twice chronic disease clinics, which has reduced the number of emergency presentations to the service.
Visit Far West NSW government website for regional service delivery priorities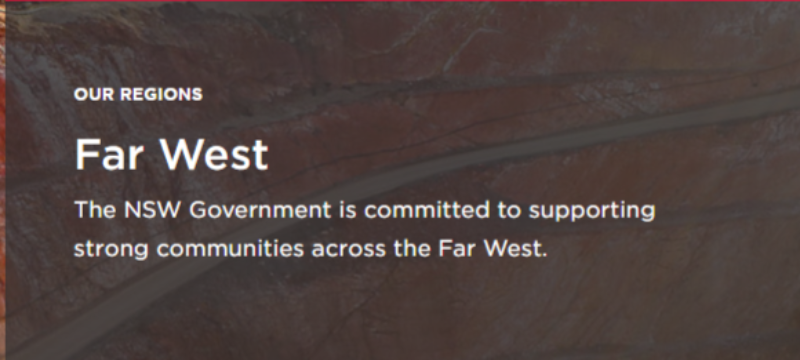 Source: NSW Government website
Placement Enquiries
If you would like to find out more about clinical placements in the Far West Region, please contact Rachel Lysaght on 08 8080 1200